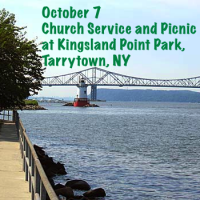 Church Picnic October 7
By Rich Swingle | September 23, 2012
THIS EVENT HAS BEEN CANCELED
Dear WCCC Friends and Family:
Sadly, our picnic for tomorrow is cancelled because of the probable cold and rain currently forecast.
Please spend your day in worship with the Lord. Rich is planning to post a message on the website with a suggested set of worship songs for your family or private devotions so please check out www.westchesterchapel.org tomorrow.
Also, Pastor Linda and Melanie were planning to drive up to Camp Taconic for a day at the women's retreat, at which Pastor Linda will speak. I'm not sure what the fee for attending that day might be, but you (if you are a woman) might check it out at www.mnynaz.com.
Blessings and Shalom. See you next Sunday at the Crowne Plaza.
Pastor Joyce
Gather with us to worship in the Lord's cathedral: Kingsland Point Park, Tarrytown, NY, in the gazebo.
Talk to Ava or Rachel about what food to bring, and we'll start to put it together at 10:30am.
There won't be any Sunday school, and the service will begin at 11am, with the picnic following.
If you'd like to bring folding chairs feel free, but for those traveling by public transportation there are benches where we'll gather.
View Larger Map
Back