Indescribable
May 4, 2013

Rich
and
Joyce Swingle
play the parents of nine children in this film, and they will introduce the film on June 1 at 7pm.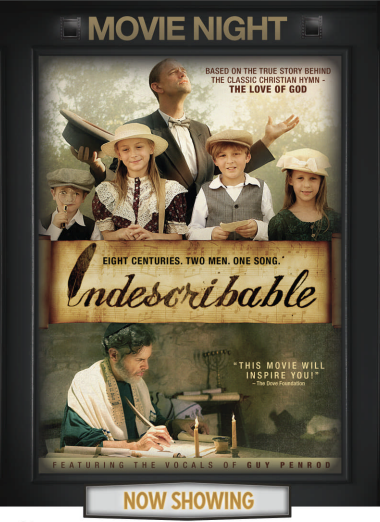 Two men…Eight centuries…One Song.
Indescribable is a feature-length film based on the historical events surrounding the writing of the hymn, "The Love of God".
Blynn Lehman (Seth Pruski) is an adventurous boy determined to help his family face the financial struggles brought about by WWI. Since his father (Rich Swingle) has already begun writing a song about the love of God, Blynn and his siblings try to help him finish it. Their comical failed attempts to write a verse for the song cause Blynn to realize he doesn't really understand what it means to love God. After Blynn stumbles across the perfect verse to finish the song, the hunt for the author begins, leading them from an old asylum to a scholarly Rabbi, where they learn that an ancient Jewish Rabbi living in Germany during the time of the First Crusade originally composed the poem they are considering. When the family receives tragic news, Blynn's struggle to understand God's love comes to a climax. Ultimately he learns what it means to love God with all your heart and soul and mind and strength.
It was chosen as a semi-finalist for the San Antonio Independent Christian Film Festival (SAICFF), where Joyce and I got to see it screened in February 2013. It won Runner Up for Best Musical Score. This video shows some reactions after the screening...
It was 106 F outside this
"packing plant" in Bryan,
TX. When they closed the
doors, turned off the fans and
cranked up the lights it had to be
over 120!
I played Fredrick Lehman,
who was a pastor,
hymn writer, and
founder of Nazarene Press.


Joyce and I play parents (or in-laws, or future in-laws, or grandparents) to them all.

Photos Copyright Thorn Crown Project, photo by Rebekah E. Cook
Help us get the word out. Copy the following image and paste it in your emails. When someone clicks on it, it will take them to this page:

Click the link below to download print fliers for your friends and family:
IndescribableHandbills.pdf
Back